Introduction
The 1st Lothians and Border Yeomanry was a Territorial Army Regiment and it no longer exists.
The 1939-1940 campaign included the preparation for war and the war in the Saar and in Normandy as part of the 51st Highland Division, culminating in the capture of 40,000 troops, 10,000 of them British, in St Valery-en-Caux south of Dunkerque and north of Le Havre.
Twenty L&BY men made it home: 3 officers and 17 other ranks. The three officers were: Major Jimmy Dallmeyer, Captain Ronnie Watson and Sergeant Major Ted Lawrence. Who were the other men? We think that L/Cpl Blues and a Charlie Hoy, Jimmy Dallmeyer's batman, were amongst the others, but the War Diary does not name the other ranks. Other possibilities are: Sandy Clark, Dougie Cox, WC 'Safety' Fraser and Rab Smith; WA Woolward, JR 'Slim' Walker, J Ferguson?, DS Arbuthnot, JS Sutherland?
The Battle Dress Insignia of the Highland Division in 1940 was the Saltire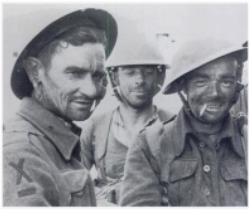 taken from www.laird.org.uk